Delegation from Biai Province, Angola, Africa comes to DUPM for a Visit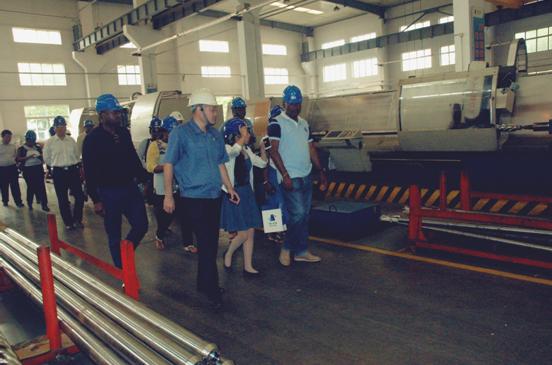 Late on September 2015, 10 people from Republic of Angola, Biai Province came to Dezhou city for a seven-day' visit to develop the international market in Africa, build a long-term cooperation between two parties. This visit aimed to seek procurement business in construction, petroleum, agricultural machinery and high-end furniture enterprises. Governor and his colleagues and Mr. Wang Dashan, leader of Economic and Technological Zone, and Mr. Yang Feng, Director of Economic and Technological Zone Commerce Bureau, came to DUPM for a short visit and negotiation. The Governor expressed his intention of cooperation.
Republic of Angola is located in Southwestern of Africa and has abundant resources. This country develops fast for its rice oil reserve and there still has a large amount of oil remains to be exploited. The coastal region of this country reserves over 13.1 billion barrels of oil. It is called "Brazil of Africa".
Mr. Cheng Guihua, the President of DUPM with other leaders showed a warm welcome to the Delegation. During the visit, Mr. Cheng told the history of DUPM and introduced the productions of DUPM. The Delegation expressed their interests and attention to our Mud Motor and showed the intention of further negotiation.
Republic of Angola is an important partner of China, DUPM is looking for the opportunity to cooperate with it to seek a win-win cooperation.