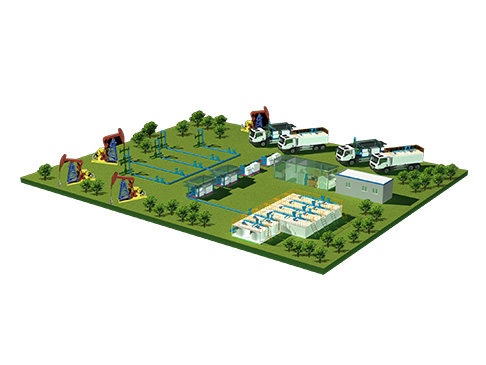 DMSY-Ⅱ Intelligent Ground Injection System
Parameters
The DMSY System mainly consists of polymer mixer, gellant filling device, stirring device, flow rate meter, water plugging and profile control pump, intelligent control system, movable barrack. The system is an automatically-controlled device specially developed for polymer waterflooding, profile control, water shutoff, water flooding, combination flooding, etc.
1.The system is operated by industrial computer. Agents are automatically mixed and injected. All data is automatically calculated, ensuring the quality of injection.
2. Through pressure feedback system, can achieve closed automatic control of pressure and protect the safety of pressure pipeline and formation.
3.Through flow rate feedback system, can achieve automatic adjustment of flow rate and meet the requirement of injection process.
4.Easily switchable between auto-control and manual-control modes.
5.All data can be automatically saved, remotely transferred, analyzed and controlled.
6.Physical work intensity is reduced, achieve unattended operation.
7.Various modes of installation are available for choice.
Item
Parameter
Rated pressure(MPa)
25
35
The range of displacement(m³/h)
3-12
Power

Voltage:380V(AC three-phase)

Frequency:50Hz
System control mode
Automatic-control/ manual-control
Polymer mixer
Hydraulic control plugging pumps, triplex injection pumps.
Gellant filling device
Make according to customer's process requirements.
Stirring device(m³)
8、10、12、20、24、30(Make according to customer's requirements)
Movable barrack
Industrial control room for placing control system;Material room for storing material and indoor mixing system; rest room for employees; barrack for meeting other purpose.
Structure
Skid-mounted style
Notice:
1.Displacement and pressure of system can be assured according to the style of water plugging and profile control pump.
2.The configuration specifications of system can be made according to the customer's requirements.